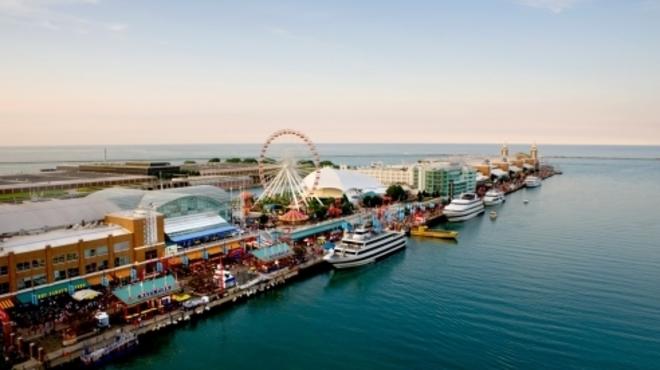 Photo credit - Chicago Attractions
Update 1: I moved from the beautiful mountains and valleys in Pennsylvania to the toll-littered, highly-taxed, tornado-playground, mostly flat land, and a real ice box in the winter place called Illinois. And it is really as windy as people say, and yes, a certain section of Chicago has a high crime rate. Still, I can't deny Illinois this credit, downtown Chicago is beautiful. And really, Chicago springs life. A river runs under the street. The Chicago Fire has helped to change the face of the city making it one of the most beautiful places to visit in the US. The history is rich. So many things happened here and are happening here. The Navy Pier and River Walk are beautiful.
Update 2: My stepfather fell, broke his hip, learned how to walk again, fell again and now he can't walk alone any more, and he developed an infection that took away his memory and sent him to death's door. The doctor told us he was dying. The hospital denied him water until my older sister had to raise her voice asking the nurses to feed him. It's now seven months. The infection is gone, his memory is back, and he is very much alive, but he uses a wheelchair.
Update 3: My stepson contracted a rare immunological illness that turned his immune system on itself, attacking his kidneys (MPGN). He could have died. It was that bad. No one knew/knows where the illness came from, but the only effective treatment now is steroids. He's better now, though his kidneys are not functioning 100%. A full recovery is expected, we hope.
Update 4: I found a church last week and I learned two new gospel songs sang by Jesus Culture (see YouTube Set a Fire & Holy Spirt) that won't leave my head. While they played, I felt as though I should take my heart from inside me and just hand it to God to wipe it clean. I'm thinking about giving my life to God again. But, I'm not 100% percent committed yet. The pastor said, "God has a plan for" me. So, I need to spend time with God and let him show me the plan. If summer were still on this land, I would probably go into the wilderness like Moses and get my vision or the plan.
Thank you for commenting on Amany's poem over at

Day Laughs Night Cries

.